Once you have chosen your style, click the dropdown and a list of available seals will appear to show you which schools we are licensed with and are available in that product. Check the SCHOOLS page if you are unsure of what the seal options look like. Some schools are limited by seal shape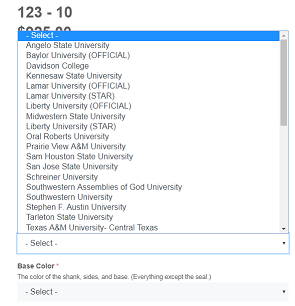 My school is not listed. Can you get licensed with other schools?
We can look into your university's licensing process. The application and approval process can take a few weeks to months depending on the school and what their process is. There is an additional $200 fee to cut the new school seal for the first time. (If you can get a couple of other students from your school to also place an order at the same time, we will waive that extra fee.) Fill out the form in the "REQUEST A SCHOOL" tab to start the licensing process with your school.
How long do your college rings and pendants take to make?
Our University Collection items typically take 6-8 weeks to complete. Once your order is placed, you will begin receiving emailed updates to keep you informed on when you expect your item to be completed.
What schools can you make rings for?
Each item we make requires a license and artwork approval from the school. To see which schools we are licensed to make rings for, check our SCHOOLS page. Don't feel limited by the seal pictured in the product photos. Any school seal we are licensed to make can go in almost any ring!
What does 10mm, 12mm, and 12x10mm mean?
These measurements refer to the size of the school seals. The 10mm is a small round seal, the 12mm is a large round seal, and the 12x10mm is an oval.
What are the shipping options?
Local pickup is available if you would like to pick up your order at our Waco store during business hours. We can also ship your ring once it has been completed and the balance is paid. Shipping is $25 and covers insured delivery via UPS Ground which should require a signature upon delivery.
Do you do sterling silver college rings?
No, we only use 14K white, yellow, and rose gold. Sterling silver is a soft metal that will tarnish over time and more susceptible to losing stones and scratching. We cannot insure the durability for a lifetime as we do our other products.
Does the gold color I choose affect the price?
No, prices are set based on the style of ring and stones you choose. All colors of gold we use are 14K, so the color you choose does not affect the price.
I want something totally custom.
If you have looked through all of our styles and options, but are still looking for something special, send us an email with some photos and ideas and we would be happy to build a custom style for you.
Do you offer payment plans?
We do! Before you click the checkout button, click the purple Partial.ly button below it to create a custom payment plan. All University Collection orders require $200 down. The balance just has to be paid within 6 months and before shipping or pickup. Orders cannot be shipped or picked up until the balance is paid in full.